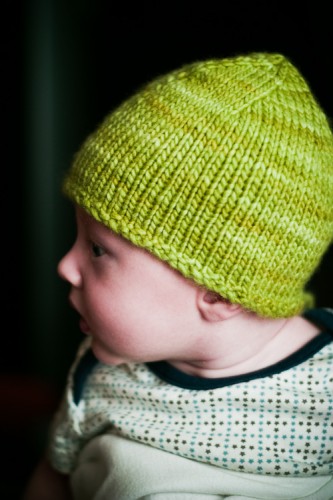 3-6 Month Baby Helmet
Here is my first free pattern posted to my blog. It is simple but also cute. I knit this up in some extra Malabrigo Worsted that I had laying around. The colorway is Lettuce and I adore this color for babies. Boy or girl it looks great. So far I have only figured out the patten for 3-6months but I will post more sizes later. Supplies Needed:
Materials Needed:
5 size 7 DP needles
Malabrigo Yarn 65 yards
stitch marker
Abbreviations:
K – Knit
P – Purl
CO – Cast On
K2tog – knit two stitches together to decrease
R – Round
CO 60 stitches connect to knit in the round
R1: (K,P)* repeat to end of round
R2: (P,K)* repeat to end of round
knit for 22 rounds (or for approximately three and a half inches)
R25: (K8, K2tog)*
R26: knit
R27: (K7, K2tog)*
R28: knit
R29: (K6, K2tog)*
R30: knit
R31: (K5, K2tog)*
R32: knit
R33: (K4, K2tog)*
R34: knit
R35: (K3, K2tog)*
R36: (K2, K2tog)*
R37: (K2tog)*
R38: (K2tog)*
Run yarn through all the loops and tie off.