What have I been doing? I looked today and noticed that my blog posts have become far and few between. The reason for that is the sun has finally come out and I have been able to leave the state of mild depression and escape into sunshine. I am taking lots of long walks with my kids in the triple wide stroller. I have not ceased my knitting and pattern designing. I have just slowed down. It has been a good break and I think I need to soak up the sun and inspiration for a time before I can start creating again.
Also I have been very busy creating a Knitting 101 tutorial for the wonderful editor of craftsnob.com Sara. She is SUCH a pleasure to work with. I love her montra about being "a picky crafter, hence Craft Snob." I completely agree with that statement. And for the picky crafter tutorials abound on her blog so check it out. Here is the link to the first of four lessons in knitting.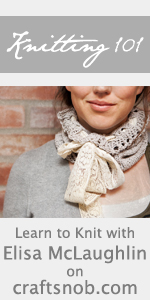 The next three lessons will include video tutorials along with a free pattern and lots of pictures. If you do not know how to knit stop by and check it out. If you DO know how to knit, good for you, check out her other wonderful tutorials.
Here is a picture of the lace headband that I am still finalizing the pattern for. Crochet pattern writing is still new for me so thanks for your patience! Also I added feathers to a flower clip. I LOVE how it turned out but I still have to figure a few things before I post it on Fiona's Frills.
Lace Headband in Malabrigo Rios Primavera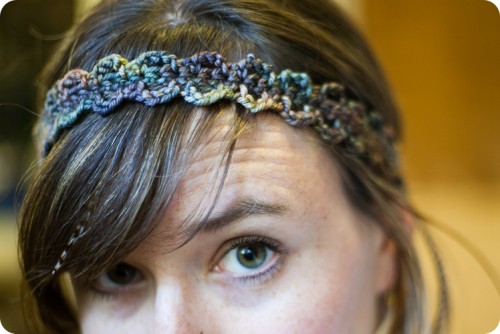 I have LOTS of feathers in my hair right now :).
Flower clip with feathers added. I will probably include this in the pattern when I get it together.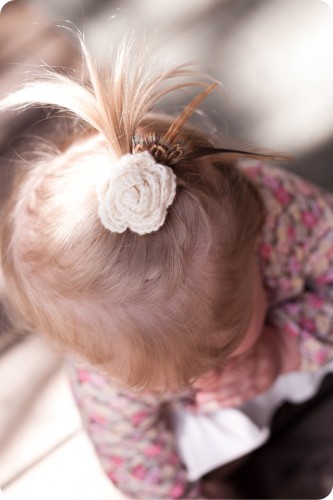 Caught a picture of Fiona wearing the clip and actually looking at the camera. She was drinking of course, usually she is either drinking or eating. I love how it looks on her!