Homemade Gluten-Free Granola Recipe
I have been asked many times to share the recipe for my gluten-free granola. It is the best granola recipe I have found (that is easier for me to say as it is my mother recipe not mine) and you can make it gluten free or not depending on your dietary needs. It is also dairy free and sugar-free as long as you don't count honey as sugar. The best part about this recipe is it's very easy to adjust and change depending on what you want in it. I have included a basic description of how to prepare different types of ingredients, but the specifics are up to you. I included the extra ingredients I used in the "Optional Delicious Extras" section as well.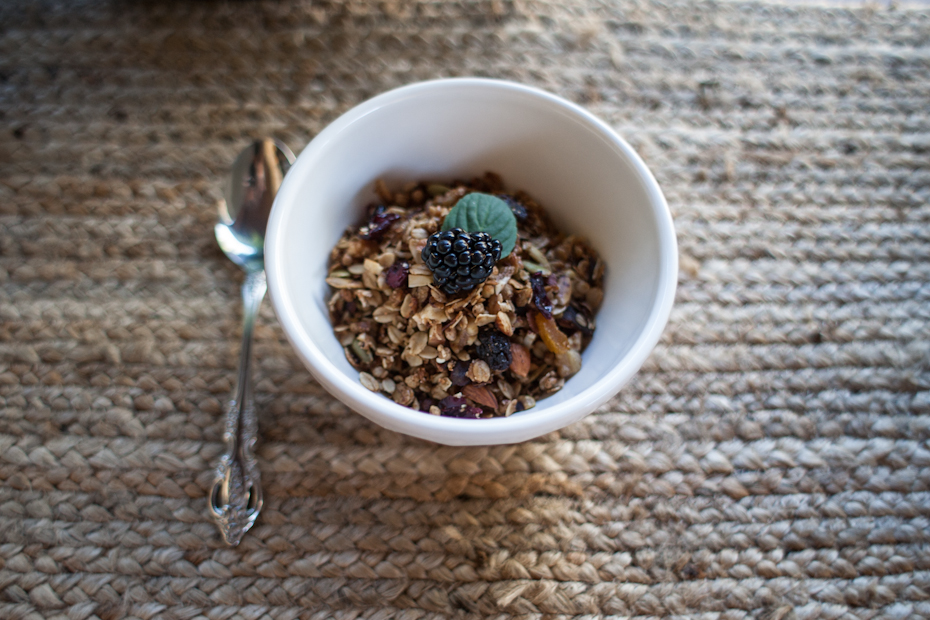 Basic Ingredients:
6 cups gluten-free oats: Oats are one of the most commonly contaminated grains. If you have an issue with gluten you will feel it when you eat oats that are not certified gluten free. This is because oats and wheat are processed on the same equipment. I get my gluten-free oats from Azure Standard but you can find it at most health stores.
1 cup Coconut Oil: Coconut oil is amazing! However it is important to get organic virgin coconut oil. If you are trying to retain the health benefits of foods the less processing and pesticides the better.
1 cup Honey: Obviously organic raw local honey is the best but it is very expensive, the granola is wonderful no matter what type of honey you use.
1 Tbs Cinnamon
1/2 tsp Salt
Optional Delicious Extras:
(If you have celiac's disease you may need to get the gluten free version of some or all of these ingredients.)
1/2 cup shredded coconut
1 tsp Raw Cacao Powder
1/2 tsp cloves
1 1/2 cup almonds
1 cup walnuts
1 cup pecans
1/2 cup raw pepita
1/4 cup flax seeds
1/4 cup hemp hearts
1/2 cup sunflower seeds
Ingredients to be added after the granola is finished baking:
1/2 cup dried cranberries
1/2 cup pistachio hearts
1/2 cup cut up dried apricots
1/2 cup dried blueberries
Directions:
preheat oven to 350°
In a 13 x 9 inch baking pan mix the oats, cinnamon, (cloves, Cacao, nuts, seeds, coconut) and salt. Slowly melt the honey and coconut oil in a pan and pour them over the oats. Mix everything together until all the ingredients look evenly coated with the honey and oil. Once you have done this place pan in the oven. Cook for 15-20 minutes. Pull out the pan and stir the granola. Place the pan back in the oven and cook for an additional 20 minutes stirring every ten minutes. If the granola turns golden brown before the end of the time limit pull it out early. Set out and stir in any dried fruit ingredients. Then let it cool thoroughly. Feel free to snack on the granola during this time to check if is wonderful or not.
Once the granola has cooled make yourself a bowl and put the rest in an air tight container or a Ziploc. It keeps for a long time but my family always finishes a batch by the end of a couple of days.